The Sacopee Energy Alliance (SEA) provices information to local homeowners about heating and energy options that would save them money and make their homes more comfortable. The Maine-based group provides emergency heating assistance to those in need.
SEA is working with the local Sacopee Valley High School's TV2 program, collaborating with students to produce short films highlighting the benefits of energy efficiency and easy tips on how to achieve that goal. Volunteers have created Energy Efficiency Toolkits that are now available at the local libraries. They are tabling at various community events to promote the mission throughout the Sacopee Valley 5-town area of Porter, Parsonfield, Cornish, Hiram and Baldwin and have set up displays at area banks and the Health Center.
The Alliance received a Grow grant in the Spring to help people make their homes more energy efficient by collaborating with the non-profit WindowDressers to sponsor a 'Community Workshop' of the low-cost interior storm windows that are made with volunteer and community support.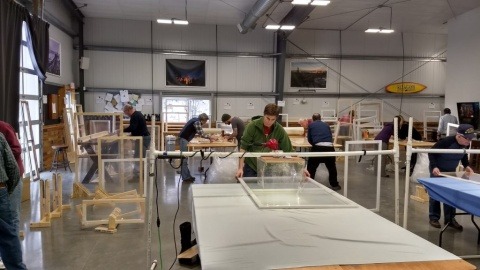 WindowDressers is a volunteer-driven non-profit organization dedicated to helping Maine residents reduce heating costs, fossil fuel consumption, and CO2 emissions by lowering the amount of heat loss through windows.
WindowDressers describes Community Workshops as 'Typically, a rotating crew of 10-12 volunteers per half-day shift come together to assemble the inserts over several days. No special skills are necessary and every simple job is taught on-site by our experienced volunteers."
It's like an old-fashioned barn-raising for inserts. Members of the community gather together for several days to build all of the inserts that have been ordered in their community. Experienced volunteers teach new volunteers, food is provided, and the end results are high-quality inserts at a very affordable price and a stronger, more connected community.
Groups try to find a suitable job for every participant, regardless of ability. Some jobs can be done seated. Some can be done from home. Many builds offer evening or weekend hours for working participants. If a suitable job can't be found, a friend of family member can participare in the Insert recipient's stead. If that's not possible, the Local Coordinator can offer a participation waiver.
Thirty communities across Maine have Community Workshops planned for this Fall/Winter. The Grow grant program deadline is September 15 for groups looking for support to bring a workshop to their community and the Seed grant program accepts applications year round.
Resources
Enjoyed reading this? Become an application reader and help us make funding decisions!
We invite you to join us in reading applications from groups like the Sacopee Energy Alliance and share your perspectives and insights as we make funding decisions. Sign up to become a reader, help us as an event planning committee member or write and share your own story! Learn more by visiting our Participate page.