By Shane Rogers, Strategic Communications and Network Weaving Strategist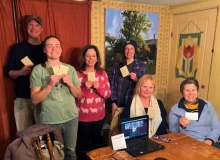 For the Moose Mountain Seed Savers of Milton, N.H. their Grassroots Fund Seed Grant couldn't have come at a better time.
"It was really a morale booster for everyone," says Ashley Jacaruso, one of the group's organizers who spearheaded the grant application. "We had been working hard, putting our own money into the organization, and we were asking ourselves 'how are we going to sustain this?'"
The Moose Mountain Seed Savers are an ad-hoc group, without formal 501c3 nonprofit status, that was formed over the past year. Their goal is to create a regional seed saving collaborative to revitalize and strengthen the local food system and, in turn, promote seed and food sovereignty. The core of the group is made up of farmers and gardeners who saw a need for non-commercialized seed availability and set out to work with their community to learn more about the practice of seed saving and provide seeds to those who were seeking them.
"It's this type of community effort that is perfect for the Seed Grant," says Tess Beem, Seed Grant program manager at the Grassroots Fund. "The grant is designed to be nimble and responsive to emerging community needs with a quick turn around on decisions."
Not only was the Seed Grant the first grant for the Moose Mountain Seed Savers but it was also the first grant application that Jacaruso had ever written. While she admitted to being nervous at first, she said she found the process supportive and helpful.
"It really helped narrow in our group's focus and figure out what we were trying to achieve," she says. "Now we have a mission statement that we can check back with and ask 'is this in line with what we want to be doing?'"
As with all Grassroots Fund grants, applicants are asked to demonstrate how their group's work is steeped in and informed by their community. Then, it's community readers who ultimately decide on funding, utilizing the Grassroots Fund Guiding Practices - Rooted Innovation, Shifting Power in Decision-Making, Equity in Participation, and Centering a Just Transition - as grounding principles for those decisions.
"At the Grassroots Fund we interpret the word environment broadly," says Shane Rogers, Strategic Communications and Networking Weaving Strategist at the Grassroots Fund. "And our focus is on how the work is being done and whether it's meeting the needs of the community."
For the Moose Mountain Seed Savers, they are moving forward with engaging the community around the issues that brought them together in the first place - seed saving. They've held one successful community workshop, are looking to build little free seed libraries for community members to plant and share from, and are actively working to bring in more members and make their space welcoming and accessible.
"The Seed Grant was so straightforward and about the root cause of what you're doing and why you're doing it," says Jacaruso. "It made our group's work feel more real and helped us better understand why we are doing it."
_
The Seed Grant is designed to meet the needs of new groups, groups without 501c3 status, or established groups that are working on new community projects. There is a short, four to six week turn around for this $500 to $1000 grant.
Want to know more? You can find an in-depth explainer of the Seed Grant on the Grassroots Fund Facebook, Instagram, Twitter, LinkedIn, or website. You can also reach out to the Seed Grant program manager, Tess Beem, at tess@grassrootsfund.org.