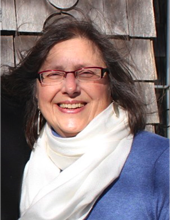 Congratulations to the QC Bike Collective and the finalists of the KingFischer Innovation Award!

The QC Bike Collective was selected as the recipient of the Cheryl King Fischer Innovation Award. The QC Bike Collective is based out of Manchester, NH and aims to help residents ride safe, affordable bikes and have the opportunity to fix them. The Collective provides space, tools, equipment, and expertise for community members to repair and refurbish bikes.
Cheryl King Fischer is the Grassroots Fund's founding director. Upon her stepping down as Excecutive Director at the end of 2014, we created the Innovation Award in her honor.

The Cheryl King Fischer Innovation Award or the 'KingFischer' for short, is a bonus grant given at the end of each year to an innovative, crosscutting, and inspiring project that embodies the Grassroots Fund's founding director's essential spirit and commitment to:
Balancing environmental sustainability with social justice issues

Testing new and innovative ideas and problem-solving approaches
Examining problems or opportunities from many angles, using systems thinking and organizing strategies that break down issue and organization "silos"
Fostering collaboration, networking and collective action to gain broad and lasting impact

Demonstrating social entrepreneurial thinking, risk-taking and willingness to try solutions that could be wildly successful or fall on their face, but in all cases move change forward and teach new things
The Cheryl King Fischer Innovation Awards will encourage deeper understanding and commitment to broad and inclusive solutions by supporting the most creative and forward-thinking leaders and projects proposed in the Seed and Grow grant categories.
The KingFischer finalists are chosen by the Grasroots Fund's staff and panel of grant-making committee members. The award recipient is selected through a combination of quality and quantity of public comments, thereby encouraging broader interaction between grassroots groups and the community and ultimately increasing the visibility and credibility of local action - key goals underpinning Cheryl's tenure with the Grassroots Fund.
The KingFischer nominations for 2015 are listed below. You can indicate your support for a particular group by adding a comment describing why you feel that particular group should receive the KingFischer. Click one of the photos below and scroll down the profile to see other comments and add your own. Thank you!
---
---
Click any of the images above to read more about the group's work. Add a comment at the bottom of a group's page and share why you feel that group should receive the KingFischer.